Description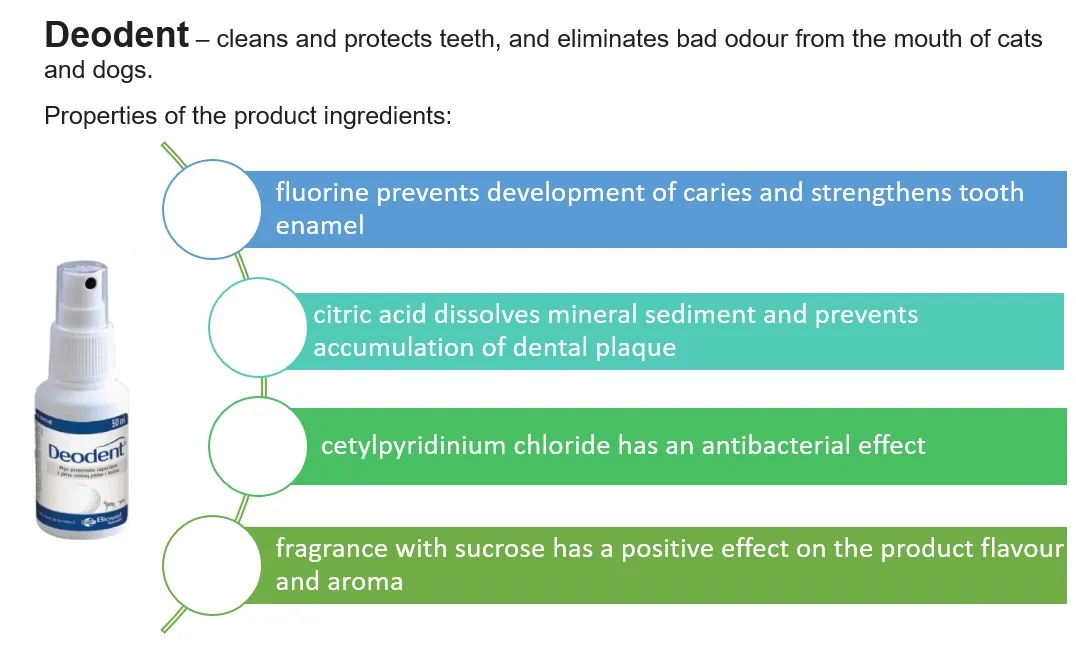 Liquid formula for eliminating bad breath in cats and dogs
Ingredients
Citric acid
Sodium fluoride
Cetylpyridinium chloride
Saccharin
Fragrance
Distilled water
Characteristics
Gives your pet clean and healthy teeth, neutralizing bad breath.
Fluoride prevents dental caries and strengthens tooth enamel.
Citric acid dissolves mineral plaque.
Fragrance and saccharin enhance flavour and aromatic characteristics of the product.
Indications
Eliminating unpleasant odour from the mouth.
Teeth cleaning and care.
Directions for use
Spray teeth and gums with the product brought to room temperature.
It is enough to press the dispenser 1 to 3 times for each side of the mouth.
In case of animal hypersensitivity to spraying, moisten a cotton pad with the product by pressing the dispenser 3-5 times and apply to teeth by rubbing.
Use the product after each meal.
Use the product daily to keep the teeth clean and healthy.
Storage
Keep at a temperature not exceeding +25°C.
Protect from light.
Do not freeze.
Warnings
Keep out of the reach and sight of children.
Shelf life
18 months
Available container
Spray bottles containing 50 ml of the product.
Date of development of the leaflet-25.10.2013 r.
09.10.2017 r.