Description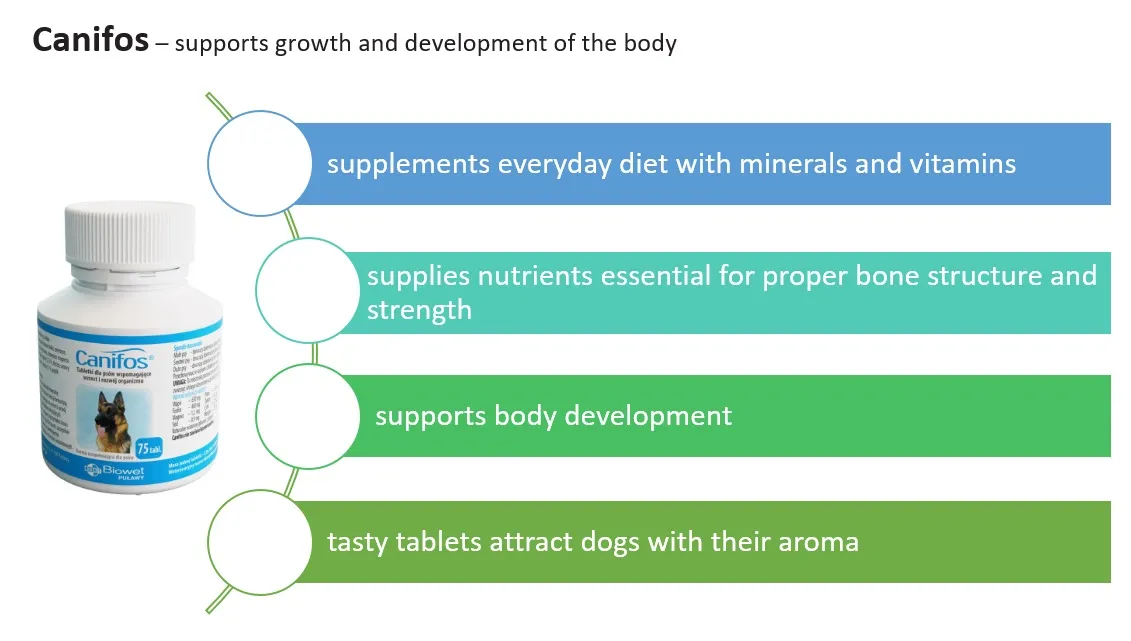 Tablets boosting your dog's growth and development
Supplementary feed for dogs
Ingredients:
Dicalcium phosphate, wheat/potato starch, processed animal protein (PAP), brewer's yeast, pork gelatin, magnesium stearate.
Analytical constituents:
total protein 5.73 %, crude fat less than 1 %, crude fibre less than 1 %, crude ash 73.25 %.
Characteristics and indications:
Mineral macronutrients and trace elements are blended into a harmonious formula regulating your dog's growth and development. It provides nutrients ensuring proper bone development and strength. Canifos is recommended for all dogs, especially when their food contains insufficient amount of minerals and vitamins.
Application and dosage:
Small breed dogs  – one tablet twice a day
Medium breed dogs  – one and a half tablets twice a day
Large breed dogs  – two tablets twice a day
Storage:
Store in a dry cool place.
CAUTION: This product contains animal-derived protein which is prohibited in ruminant feed.
Additional information:
Nutrition facts for one tablet:
Calcium      –  630 mg
Phosphorus     –  400 mg
Magnesium    – 1.2 mg
Sodium          –  0.9 mg
Potassium       –  1.4 mg
Iron      –   36 μg
Zinc        –  275 μg
Manganese   –    23 μg
Copper       –   18 μg
Protein      –  200 mg
Fat    –   40 mg
Natural vitamins, mainly of the B complex
Shelf life 18 months
Canifos contains no preservatives.
Net weight:       2.5 g
Pack size: 75  tablets
For animal treatment only
Veterinary approval number  06148301
Date of development of the leaflet-09.11.2017.